This past Wednesday, we celebrated International Women's Day, and of course, this month is Women's History Month. Fortunately, I was able to attend an event honoring the great civil rights activist, Dolores Huerta, on Wednesday. She spoke to the crowd and challenged us, she read a beautiful children's book capturing her life to a group of local 4th graders, and those 4th graders sang a perfect rendition of "De Colores" for the audience. It was such a special day.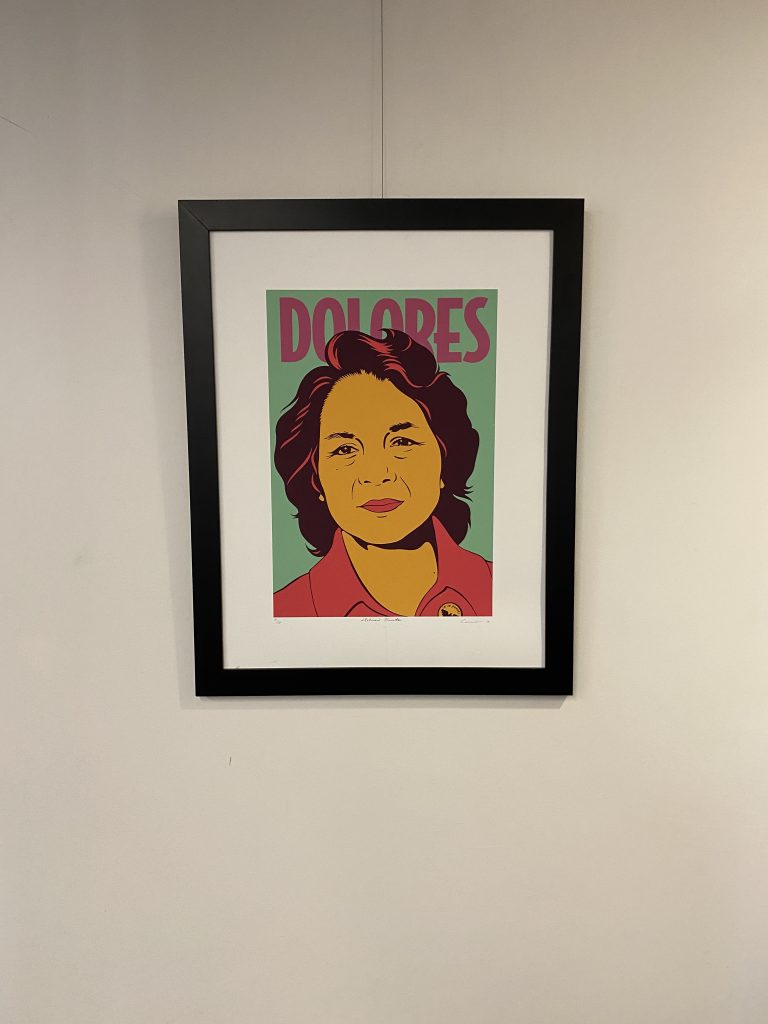 It's not often that you are presented with the opportunity to sit in the presence of such a powerful person in history–and the crowd at California State University, Channel Islands knew it.
Dolores Huerta came to the university that day to inaugurate a new exhibit housed at CSUCI put together by the Smithsonian. I was lucky enough to sit next to Maria del Carmen Cossu Saettone, the Project Director for Latino Initiatives at the Smithsonian Institution Traveling Exhibition Service. Cossu Saettone's hard work on the exhibit manifested itself clearly that day. Her dedication to spreading the word of important history shined in her passion and focus.
Before reading the children's book, Huerta took the opportunity to speak to the intently focused crowd. She mentioned how her organizing helped save the local community of La Colonia in Oxnard, CA from being bulldozed in the 60s before the Farm Workers' Movement really began to take shape. After she told that story, she reminded us, "All they [the people] have to do is come together, organize, vote, and I'll say it again, vote!" She wasted no time in her efforts to organize at the event.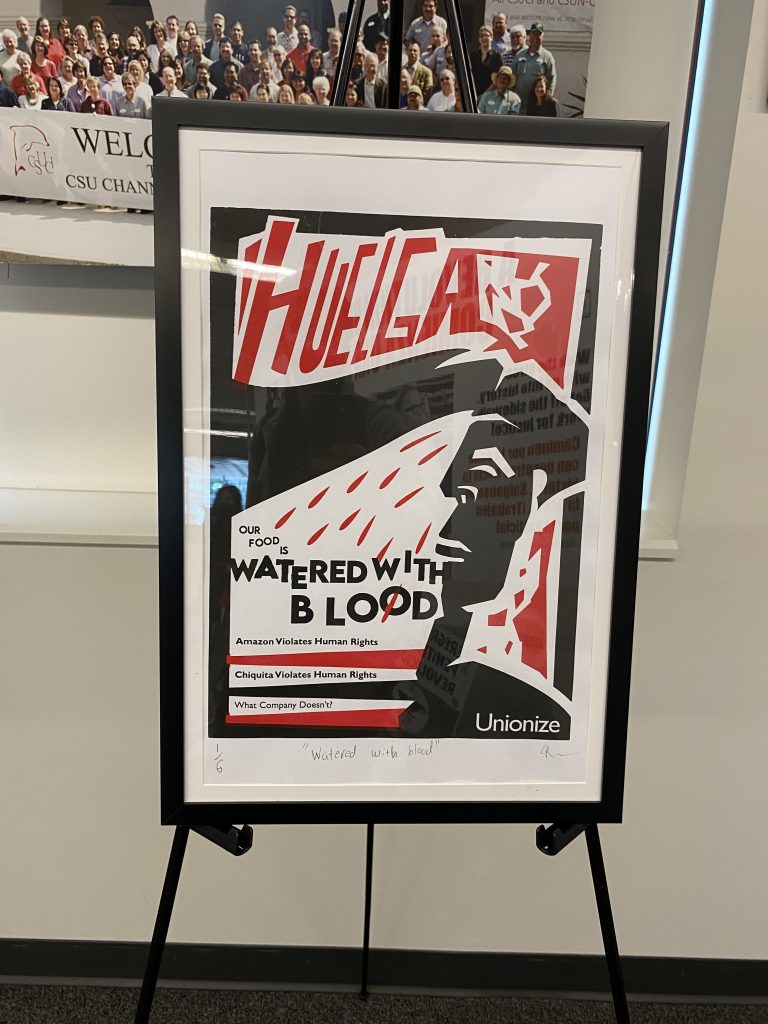 She spoke to the necessity of passing the Equal Rights Amendment, the importance of funding education and dissolving the education to prison pipeline, she addressed what she identifies as creeping fascism in the United States, and even challenged the crowd to write to our senator to stop the inhumane treatment at a migrant detention center in Kern county. "Can you do that?" she asked. We'll make it easy for you, readers. Here is his contact information. Voicing my concern took less than 5 minutes.
Huerta ended her speech by asking everyone to stand up in true organizer form. She had us answer her questions. "Who has the power?" and "What kind of power?" In return, the crowd shouted: "WE HAVE THE POWER." and "PEOPLE POWER!" This moment brought me right back to my studying of the Delano Grape Strike, where Huerta, Caesar Chavez, and Larry Itliong organized a nationwide strike on behalf of the farmworkers who were working for deplorable wages in inhumane conditions.
Awhile back, our blog covered this event to celebrate Hispanic Heritage Month. Huerta and others sacrificed so much for the voiceless. Now, at 92 years old, Huerta has not stopped the fight. She is the personification of tenacity, grit, and service. May we take some time to reflect and learn from her this Women's History Month (Teachers, use this primary source analysis resource to talk about Huerta's work and the Delano Grape Strike in your class).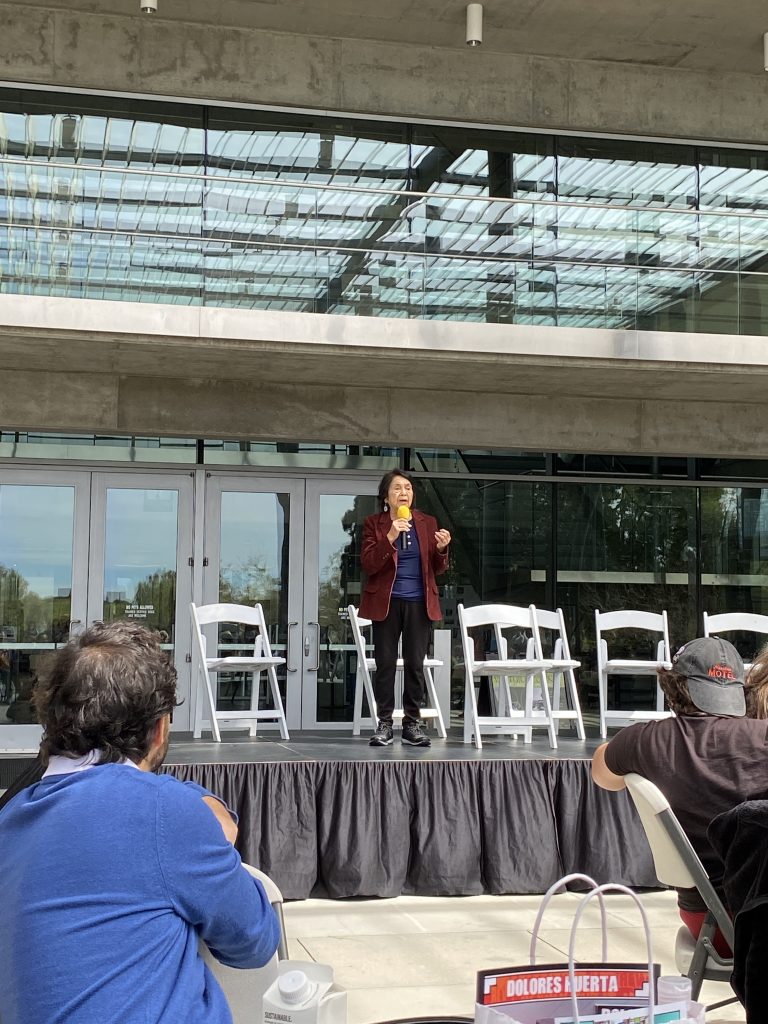 Huerta's response to a 4th grader's question sums up her goals well. The 4th grader asked, "What's your favorite thing to do?"
Dolores shouted: "Organize! I love to get people together and tell people that they have power… Come together and fight for justice."
Or perhaps another 4th grader's question: "What sport did you play when you were little?"
Chuckling, she responded, "Well I was so small that no one picked me for sports teams. But, I love dancing. Everyone should dance. If you dance when you're small, your legs get strong so you can march!"