Well, another week, another podcast. Though, this time it's our own: Thinking Historically About.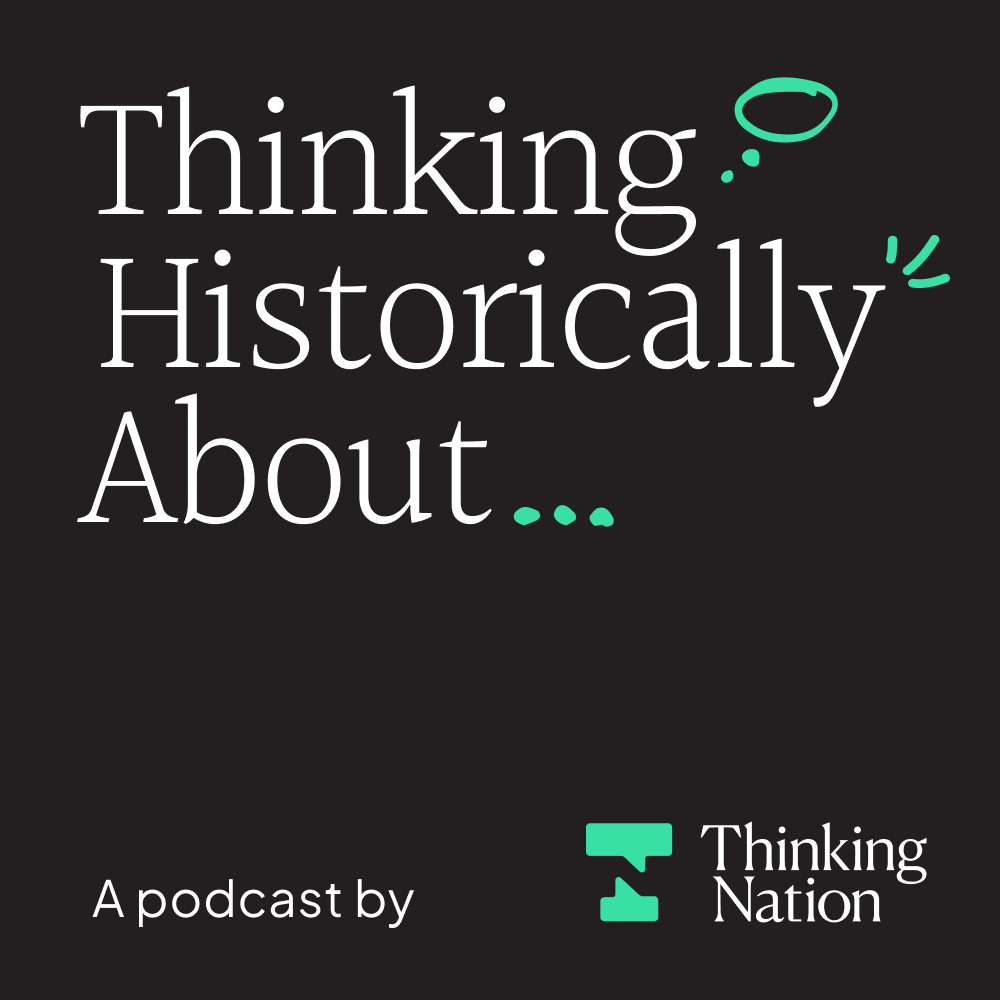 As many of you know, we continually try to be a bridge between secondary education and the university. Rather than thinking how we can put a historical thinking "twist" on traditional classroom narratives in social studies, we look at how professional historians define their discipline and then think through how to scaffold those approaches for younger learners.
Another way we try to be that bridge is by seeking out the expertise of scholars as we construct our own units. Thanks to the generosity of so many historians offering their expertise, Thinking Nation students have access to high level thinking about complex historical events through our materials. I appreciate historians like Carol Berkin, who helped shape our unit on Women and the American Revolution, Manisha Sinha, who guided our unit on Slave Resistance, John Fea, who made sure students can think historically about Alexander Hamilton and Thomas Jefferson, and James Walvin who thought deeply about the Haitian Revolution with me and how to best get students thinking about its consequences. These scholars, among many others, have made our curriculum so much stronger.
One of the next stages of incorporating the expertise of scholars into our resources is through our new Youtube Series and Podcast: Thinking Historically About. In this series, we interview scholars specifically about the inquiry questions that students engage with in our units. Our goal with these is that students can hear how an expert in the field wrestles with the same question they will wrestle with and potentially write about through our Curated Research Papers. We've been quietly uploading some on our Youtube channel, but starting this month, we will release one interview a month via podcast. We hope that this gives teachers multiple methods for allowing students to engage with these quick conversations either before or during their own engagement with the historical events they study in their classes.
Our first episode, Thinking Historically About Ancient Rome can be found on Apple Podcasts here (Or Spotify). Or, if you want to play the video interview for your students, you can find it on Youtube. We are grateful to Ancient Rome scholar, Nadya Williams, for sharing her own expertise in both the crafting of the unit and in her reflection in the interview. We hope these interviews become useful for your classroom!
Lastly, to contribute to the funding of these interviews and other collaborations with scholars You can donate here.
Enjoy!