Last year, we published the below blog for Independence Day. May it serve as an annual reminder of the 4th of July, what it can mean, and how we might think of it:
According to John Adams, we should all be firing up our grills and lighting off our fireworks today. 246 years ago, he wrote a compelling statement to his wife, Abigail Adams. Taking pen to paper on July 3, 1776, Adams reflected on the previous day's accomplishment of the Continental Congress approving the Declaration of Independence: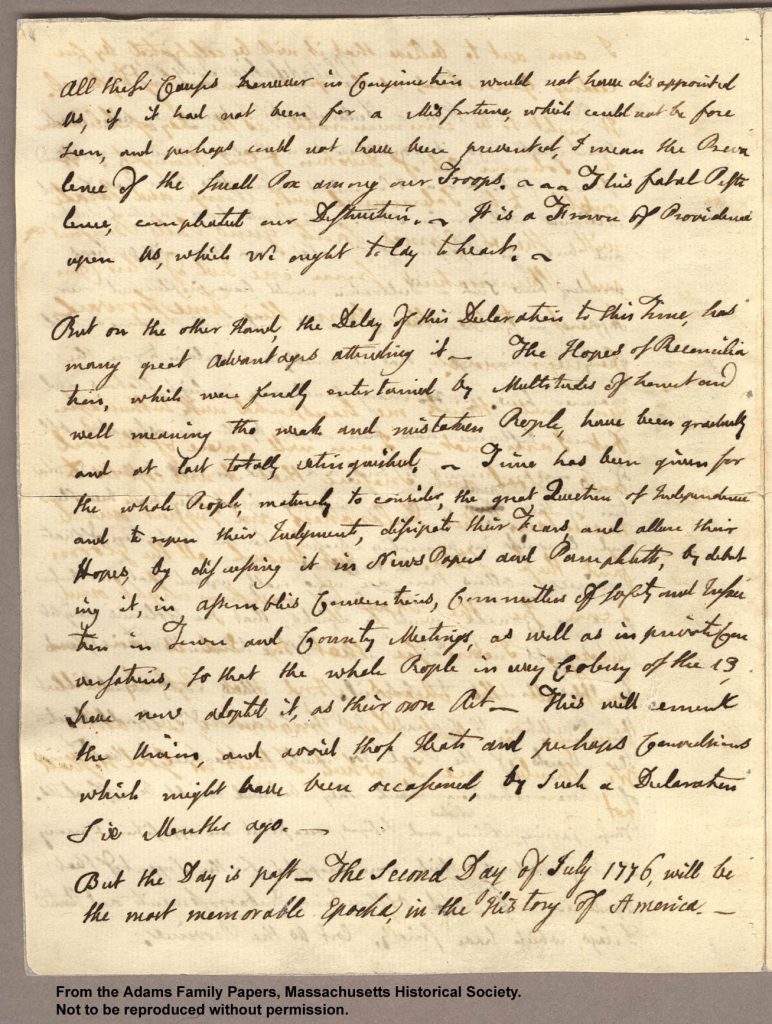 The Second Day of July 1776, will be the most memorable Epocha, in the History of America. I am apt to believe that it will be celebrated, by succeeding Generations, as the great anniversary Festival. It ought to be commemorated, as the Day of Deliverance by solemn Acts of Devotion to God Almighty. It ought to be solemnized with Pomp and Parade, with Shews, Games, Sports, Guns, Bells, Bonfires and Illuminations from one End of this Continent to the other from this Time forward forever more.

John Adams to Abigail Adams, July 3, 1776
While we may laugh at Adams' certainty that the 2nd of July would be a day of celebration, his words were still prophetic. Every year, on July 4th (the day the Declaration's final version was adopted) many Americans celebrate Independence Day. It's a day to remember the eventual success of the American Revolution and the birth of the United States.
But, as we saw in our Juneteenth blog, not everyone took such pride in America's independence day. Speaking on behalf of enslaved Americans in 1852, Frederick Douglass pointed out America's hypocrisy in celebrating its own independence while it continued to strengthen human chattel slavery within its borders. Speaking to hundreds in Rochester, NY but knowing full well that his speech would be sold in pamphlet form across the country, he declared: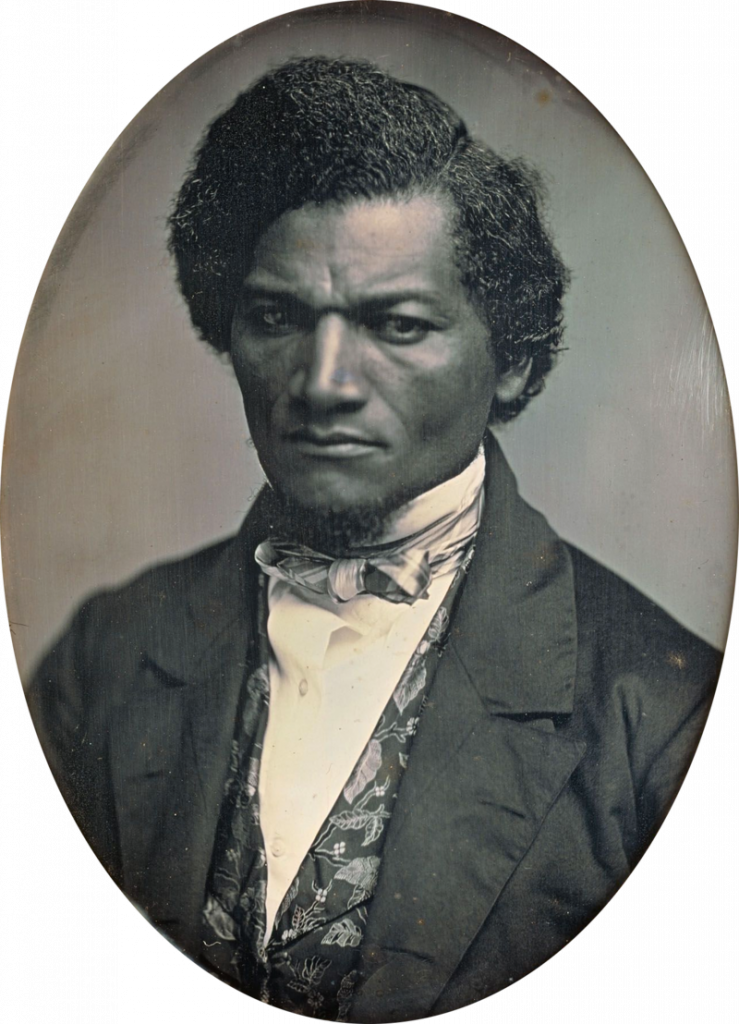 The freedom gained is yours; and you, therefore, may properly celebrate this anniversary. The 4th of July is the first great fact in your nation's history — the very ring-bolt in the chain of your yet undeveloped destiny… This Fourth [of] July is yours, not mine. You may rejoice, I must mourn. To drag a man in fetters into the grand illuminated temple of liberty, and call upon him to join you in joyous anthems, were inhuman mockery and sacrilegious irony.

"What to the Slave is the Fourth of July?" Frederick Douglass, July 5, 1852.
Douglass made sure his audience recognized America's double standard. He was able to praise what America's founders did do while also condemning what they didn't do. By doing this, he paved a path forward for us. Over a hundred years later, the Reverend Dr. Martin Luther King, Jr. continued in this vein in his famous "I Have a Dream" speech:
When the architects of our republic wrote the magnificent words of the Constitution and the declaration of Independence, they were signing a promissory note to which every American was to fall heir. This note was a promise that all men would be guaranteed the inalienable rights of life, liberty, and the pursuit of happiness. It is obvious today that America has defaulted on this promissory note insofar as her citizens of color are concerned. Instead of honoring this sacred obligation, America has given the Negro people a bad check which has come back marked "insufficient funds."

"I Have a Dream," Martin Luther King, Jr. August 28, 1963.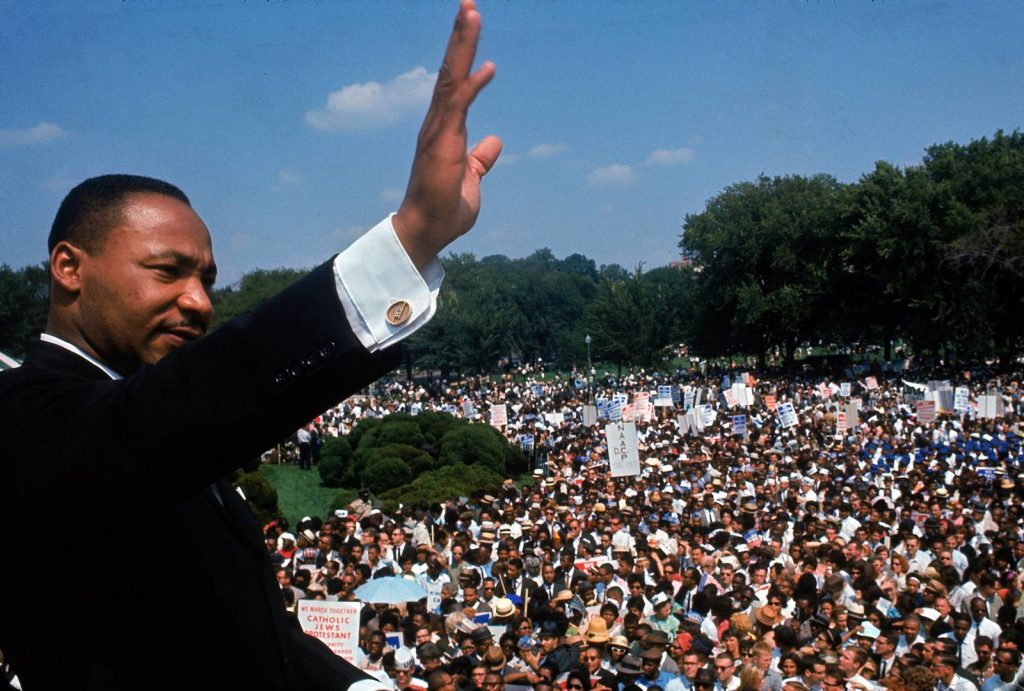 With these words, he revealed both the great feat of America's independence and the principles it set forth as well as America's inability to live up to those principles. Like Douglass, he held these two facts in tension.
Us modern readers must also be willing to hold these facts in tension. First, we cannot be arrogant enough to assume that the "bad check" is fully resolved in 2022. As any parent of a toddler will admit, making a mess takes far less time than cleaning it up. American slavery lasted 339 years. After that, Jim Crow segregation lasted 89 years until Brown v. Board (1954). It would be another decade before the Civil Rights Act was passed. Therefore, in 2022 we are only 58 years from the Civil Rights Act that MLK and others worked so hard to pass. To say that the work toward liberty and justice for all is finished is nothing other than willful ignorance. 
Still, we've come a long way in realizing America's promise as laid out in the Declaration. Based on this, as well as the words of the Declaration itself, we still have cause to celebrate! The Declaration affirms: "We hold these truths to be self-evident, that all men are created equal, that they are endowed by their Creator with certain unalienable Rights, that among these are Life, Liberty and the pursuit of Happiness." These words are worth celebrating, not because we've fully lived up to them, but in order to remind us to continue to do the work in order to "form a more perfect union."
As we celebrate our nation's birthday this weekend, may we too hold these truths in tension. On one hand, we live in a country that is built on a glorious principle, that all are created equal. On the other hand, our history is a history of our country that has yet to fully live up to this principle. That, of course, does not make the principle any less worth celebrating. As Douglass declared in his speech, "Stand by those principles, be true to them on all occasions, in all places, against all foes, and at whatever cost."
May Independence Day be both a day to celebrate the 246th birthday of the United States and a call to action to live out the Declaration's principles "on all occasions," and "whatever the cost."