Last year, the Juneteenth National Independence Day Act was signed into law on June 17th, making June 19th our 11th federal holiday. For a summary of the holiday and its incredible significance, read last year's blog. However, this year, we want to explore historian Annette Gordon-Reed's 2021 award winning book: On Juneteenth.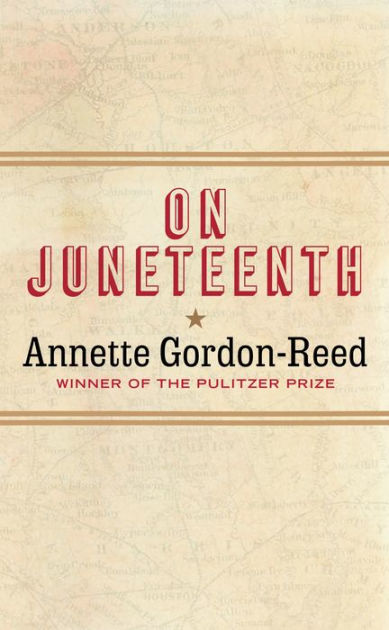 Annette Gordon-Reed is perhaps most famous for her Pulitzer Prize winning book, The Hemingses of Monticello: An American Family, which as Pulitzer.org puts it, is "A painstaking exploration of a sprawling multi-generation slave family that casts provocative new light on the relationship between Sally Hemings and her master, Thomas Jefferson." In her much smaller series of essays, On Juneteenth, she writes a mix of history, memoir, and even historical methods. Today, we will focus on the importance of historical methods in her book, as she weaves their importance throughout. 
Early on, she calls out the hypocrisy of how we often remember the past. In the Texas she grew up in, "Slavery was done. There was no point in dwelling on the past" (p. 27). Of course, she reminds the reader, "Except we did dwell on the past. We were exhorted to 'Remember the Alamo' and to 'Remember Goliad…' (28). Here, she rightfully calls out the role of "legend and myth" as she calls them, and how they skew the teaching and remembering of history. 
In contrast, historical thinking offers something less nostalgic, but it is bound by a more truthful representation of the past. She writes a little later, "The past is dead. But, like other formerly living things, echoes of the past remain, leaving their traces in the people and events of the present and future" (33). Historians uncover those echoes, the actual echoes, not just what we may want those echoes to tell us.
As she unravels much of Texas's history that conveniently doesn't make the cut for many textbooks, she reminds her readers what history is. "History is about people and events in a particular setting and context, and how those things have changed over time in ways that make the past different from our own time, with an understanding that those changes were not inevitable" (58). In this succinct definition of the discipline, she illuminates two core historical thinking skills: Continuity and Change over Time and Contingency. These, unlike the "memory and mythology" that often lives in a "nationalistic-oriented history" (62), remind us of "the demands of historical thinking" (58). 
In that small paragraph, Gordon-Reed illuminates some of the driving factors of our own mission and curriculum at Thinking Nation. We want to empower students to think historically. Not to be grabbed by a convenient history that we easily see ourselves in or might make us feel important, but to be empathetic in our quest to understand the actors and events of the past.
Later, as she seamlessly contextualizes this holiday for both the nation and her own personal life, she reemphasizes the nature of contingency in history. "Writers, and consumers, of history" she cautions, "must take great care not to import the knowledge we have into the minds of people and of circumstances in the past" (82). Because the past is contingent, we must not be presentists. To treat the past fairly and with respect, we must understand it on its own terms.
When we seek that, we remember that revisionist history is not a swear word. It's at the core of what it means to do history. Gordon-Reed explains that "history is always being revised, as new information comes to light and when different people see known documents and have their own responses to them, shaped by their individual experiences" (107).
With remarkable clarity and convincing argument, Annette Gordon-Reed successfully captivates the reader with her own personal history growing up in Texas, the meaning of Juneteenth for Texans, and by result the nation, and perhaps most lastingly, a robust framework for studying the past. Her incredibly accessible book doesn't just illuminate the context of the nation's 11th federal holiday, it is a helpful refresher on what it exactly means to think historically.